TEXTILES AND CLOTHING>



From experimental textile installations, to life painting and sculpture, to fancy dress costumes, creating and making beautiful and useful objects has always been a core part of my skills and interests
>

EXPERIMENTAL TEXTILES (2002-07)

As part of my formal art training and personal interest, I have created many different textiles and fashion designs over several years. Experimenting particularly with textures, layers and materials, I like to develop textiles with a deeper and more complex structure to create intriguing functional, tactile and aesthetic surfaces from simple basic forms. The examples shown below use unusual weaves, layered shapes and multiple processes to create interesting tactile and visual effects through the interacting folds and varying colours that were generated.


Experimental textile designs to explore
the effect of different layering of wax, dyes
and sequins to investigate the changing
affects of light through the textile

A complex knit pattern to increase the 3D
structure of the textile to create both
interesting visual and tactile interactions
A multi-layered screenprinted textile design
to experiment with changes in the pattern
when viewed through different layers
STORYTIME QUILT (2011)

A baby's quilt with patches corresponding to several favourite story books. Using a mixture of 21st century and traditional methods, the simple quilt geometry was embellished with detailed pictures of story book characters by printing the images on special T-shirt transfer paper and transferring these images onto pieces of fabric to be sewn together on top of the basic quilt pattern.


The final quilt and close-ups of the story-book patches
>
>

FANCY DRESS COSTUMES (2010-11)

My creative making skills, usually reserved for fast and dirty rough prototyping to make real physical and working concepts and experiences, come into full force whenever I need to make a fabulous fancy dress costume for anything from a party to a music festival. I create these fantastical outfits, often complete with working electro-mechanical accessories, by using mainly readily available materials and reapplying them in inventive ways.
>
>
WATERPROOF DRAGON CAPE:
How can you combine fabulous fancy dress with functionality to optimise your clothing for a fantasy themed music festival? By using my sewing skills and a few repurposed items from around the house, I achieved this by making a waterproof red waxed cotton hooded cape that looked like a dragon. With a few creative adjustments it can also be used for superhero, Little Red Riding Hood and lucha libre wrester costumes...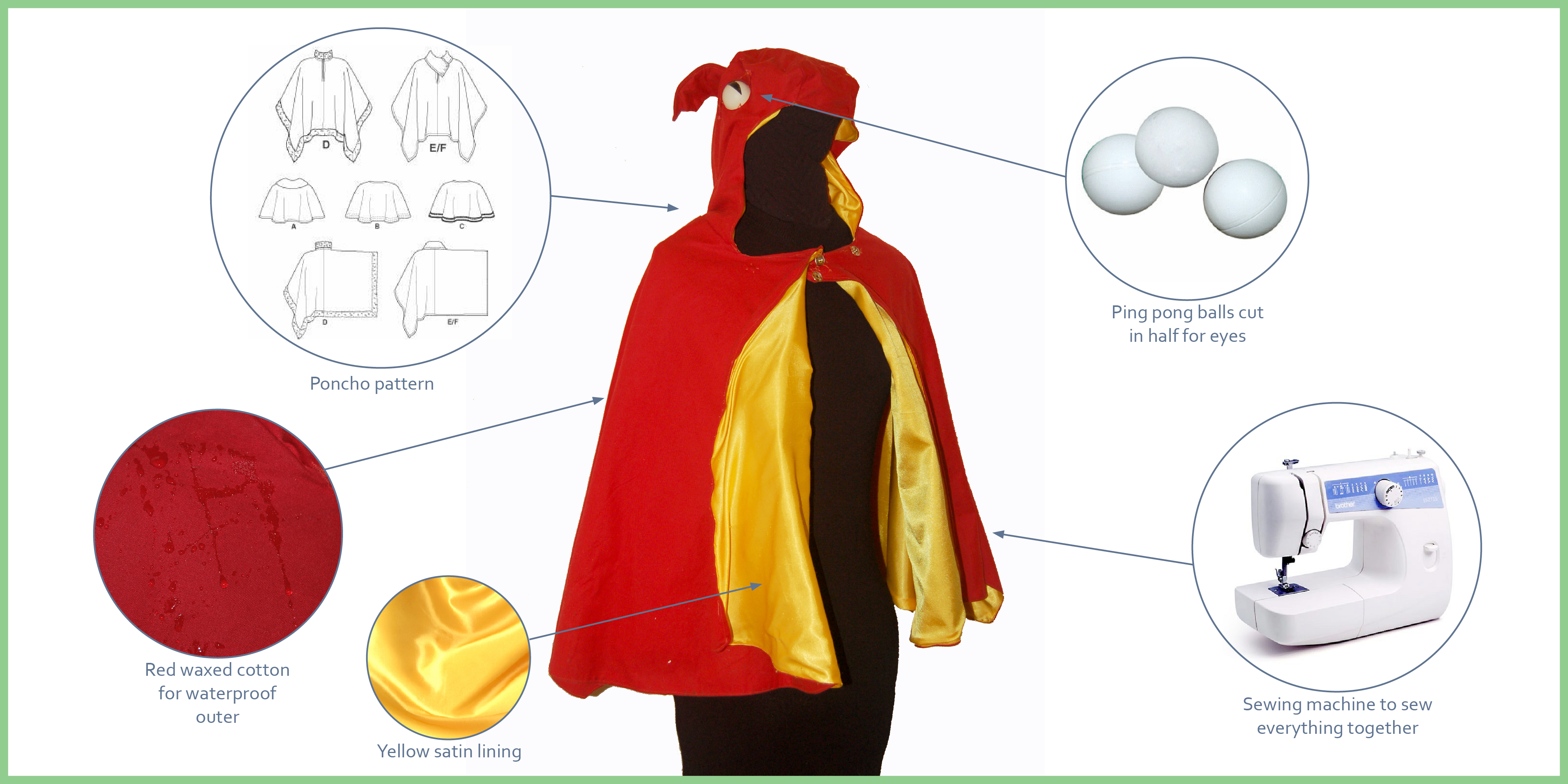 >
How to make a Waterproof Dragon Cape
>

CALIFORNIA HAND ROLL DRESS:
What is an award winning fancy dress costume design that brings together Far East and Wild West themes? By re-purposing everyday items such as kitchen sponges and packaging peanuts, a human sized sushi hand roll costume was created, including the all-important arm-holes for eating the delicious food that you look like.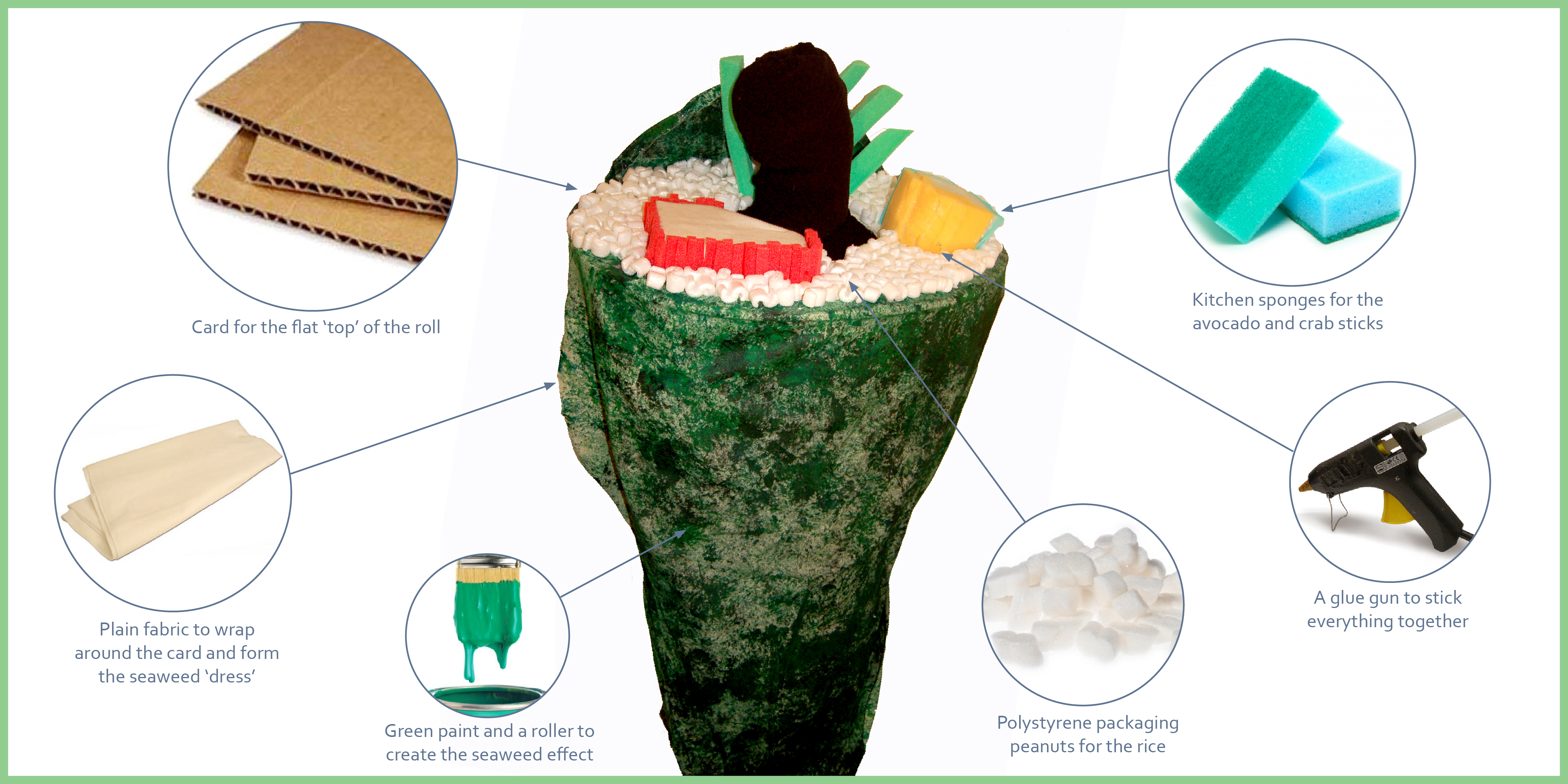 >
How to make a California Hand Roll Dress