FABRICATION FROM FABRIC>



Fabrication from Fabric was an intensive course in the design and fabrication of items made from fabric


PROJECT SUMMARY:
Fabrication from Fabric was a 3 day course held at MIT in January 2014, teaching the basics of making things out of fabric, including pattern making, material selection and sewing. Fashion designer Christopher Bevans, Media Lab Director's Fellow, as well as Yan Agaev and Priscella Shum from CBAtelier, provided expert advice and guidance for the participants in their pattern design and construction of their very own T-shirt or laptop/tablet cover!
>
>

>



>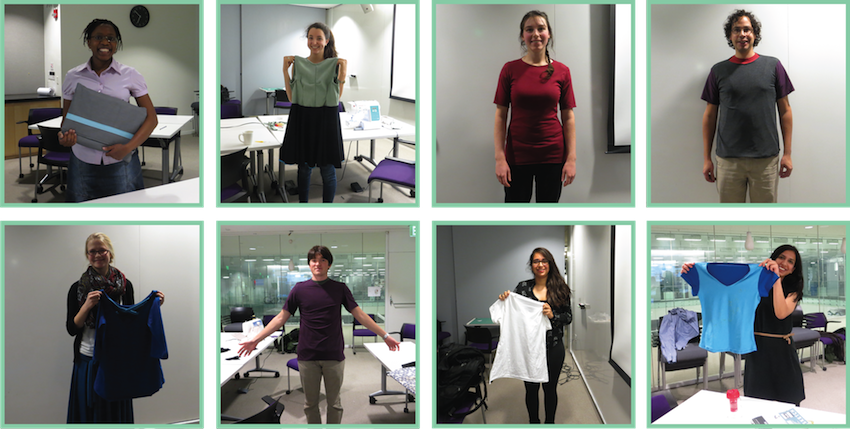 >


DAY 1: PATTERN DESIGN
How do you create a flat pattern for a perfectly fitting T-shirt or electronic device cover? Pip, Chris and Priscella took the class through the basics of pattern design; from where to find basic tutorials and hacks on the internet, to how to read a paper patter, and how to measure and make a pattern for yourself. Everyone then got stuck into measuring themselves and drawing their pattern designs onto paper.


A template for the flat paper pattern of the
T-shirt design
Priscella showing the class how to take measurements from the body
Chris advising on the details of pattern design

DAY 2: MATERIALS AND CUTTING
Now you've got the pattern, what material is best for your design? Laura and Priscella took the class around a fabric store and talked about which fabrics are best for which designs, and how to use a paper pattern to cut out all the pieces of a design from fabric. Pinning their paper patterns to their chosen fabric, the class then cut out all the pieces of fabric they needed to make their final pieces. Pip and Priscella also helped the class with fitting patterns to tailor's mannequins, and Laura experimented with laser cutting designs into the fabric.


Laying up the paper pattern onto the fabric
Priscella helping fit a pattern to a tailors mannequin
Laser cut designs on the T-shirt fabric

DAY 3: SEWING
Fabric pieces + sewing machine = a T-shirt....? Sewing the final pieces you've cut out of fabric is not as simple as it seems. In this final class, Pip and Laura taught the class the basics of using a sewing machine, and helped everyone figure out how to fabricate their final fabric designs from the many pieces they cut the day before.


Threading the sewing machine
Pinning the fabric pieces together to sew more evenly
Trying on the pieces as you make them to
check the fit
>
Co-organised with Laura Perovich at the MIT Media Lab, January 2014
>
Special thanks to Christopher Bevans, Priscella Shum and Yan Agaev from CBAtelier>