aireFORM>



aireForm is a pneumatically actuated shape-changing garment inspired by the various silhouettes that enhance the human form in women's fashion


PROJECT SUMMARY:
For centuries our clothes have served as a medium through which we may alter our apparent forms to modify and communicate aspects about our emotions and desires [3,5]. One of the most striking and richly associative elements of these visual symbols is the silhouette of garments on our bodies [1]. The structural lines that sculpt our profiles can transform our bodies - from curving, calm, feminine contours, to angular, assertive, masculine forms [2] - and accentuate our personas [4].
>
In this project we looked to combine many of these communicative silhouettes into an individual garment. aireForm builds on research in pneumatically driven shape-changing fashion [7] to create a dress that can fluidly morph between many forms, expressing our shifting personas through the flow of air around our body.
>
>



DESIGN PROCESS:
In aireForm, we chose to modify the shoulders, hips and hem areas of a dress as these elements can contribute to a more dramatic silhouette transformation. The three forms we designed into the dress manipulate these body areas to evoke classic feminine silhouettes from western fashion. aireForm's neutral state is a simple fitted dress which transforms into:
a) A sleek confident figure with broader shoulders reminiscent of 1940's military fashion.
b) A playful supple profile with a wider hemline evoking the A-line style of the 1970's.
c) A sensual striking silhouette inspired by the curvaceous hips of the 1950's hourglass figures.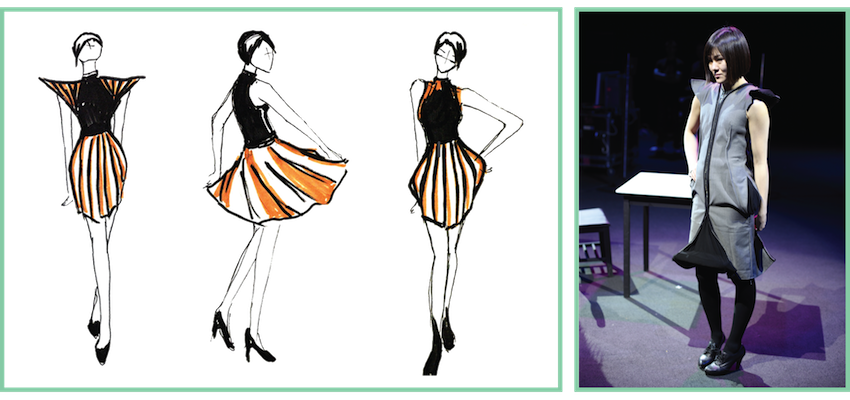 Sketches of aireForm's three emotionally expressive silhouettes (courtesy of Xiao Xiao)
The final inflated design
Shape-transformation was achieved by integrating pneumatic pillows fabricated using heat-sealed PVC film into hidden pockets in the dress at the shoulders, hips and hem. The air-pillows are connected to a central pneumatic system via tubing and a compressed air canister and pressure regulator worn on the body feed air to the pillows through electronically controlled solenoid valves. The switches in this system are textile pressure sensors embedded into the fabric of the dress, fabricated from layers of conductive and piezoresistive fabric [6] so as to integrate the technology system into the dress as seamlessly as possible.
>


Schematic of aireForm schematic system
Heat-sealed PVC film pneumatic pillows
Integration of the pneumatic and electronic systems into the design of the dress
1. Barthes, R. (1983). Système de la mode. University of California Pr.
>
2. Davis, F. (1994). Fashion, culture, and identity. University of Chicago Press.
>
3. Lurie, A. (1981). The language of clothes (p. 105). New York: Random House.
>
4. Hollander, A. (1993). Seeing Through Clothes. University of California Pr.
>
5. Moody, W., Kinderman, P., & Sinha, P. (2010). An exploratory study: relationships between trying on clothing, mood, emotion, personality and clothing preference. Journal of Fashion Marketing and Management, 14(1), 161-179.
>
6. Perner-Wilson, H., & Satomi, M. (2009). DIY Wearable technology. ISEA 2009.
>
7. Seymour, S. (2008). Fashionable technology: the intersection of design, fashion, science, and technology. Springer.
>
>
>

A joint project with Ryuma Niiyama, Xiao Xiao and Jennifer Jacobs as part of the MIT Media Lab Other Festival (April 2013)>